WELCOME!

I'm a journalism and media scholar who explores news audiences, alternative media, ritual communication, media abstention, and zines. I examine how people talk, think about, and use alternative approaches to journalism (advocacy, civic, solutions, Slow) by contrast with traditional, mainstream and "objective" news practices.
My work includes Resisting the News: Engaged Audiences, Alternative Media & Popular Critique of Journalism (Routledge, 2021) and Slow Media: Why Slow is Satisfying, Sustainable & Smart (Oxford University Press, 2018). See the Books page or testimonials below to learn more.
I teach courses in media writing, journalism practices, public-relations practices, multimedia storytelling, food and wine writing, and more at Linfield University in McMinnville, Oregon, USA.
---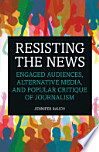 "News audiences tend to be talked at rather than talked with. But Jennifer Rauch has done the hard yards of seeking out and listening to those people who choose to consume alternative news media. The fascinating result blends empirical rigour with theoretical nuance, delivering insights of great value to scholars, journalists and citizens alike."
—Tony Harcup, author of Alternative Journalism, Alternative Voices and What's the Point of News?
"Jennifer Rauch has bestowed upon us a highly innovative and timely roadmap for understanding alternative media and their audiences. This deeply empirical and eminently readable book is perfect for students, researchers, activists, and anyone who dares to believe a better media system is possible."
—Victor Pickard, author of Media Activism in the Digital Age and Democracy Without Journalism?
"In a landscape where infinite acceleration has become the default way of

developing technology, doing business, and running an economy, Jennifer Rauch sees a growing number of people pushing back against the mandate to scale. Here is a compelling argument for why less is more, and how media can once again promote human existence more proportioned to human beings."
—Douglas Rushkoff, author of Team Human, Present Shock, and Throwing Rocks at the Google Bus
"We can long for glue pots and wire tickers that tick away in newsroom corners, or we can read books like Rauch's and come to grips with a new philosophy on how to do things differently, and maybe better and smarter before the news biz dies."
–Joe Marren, professor, SUNY: Buffalo State College
"In this spirited, sane, and savvy manifesto, Jennifer Rauch shows us how to forge a better relationship with digital media. A book to be devoured — slowly." 
—Carl Honoré, author of In Praise of Slow and The Slow Fix
---